Lasting Memories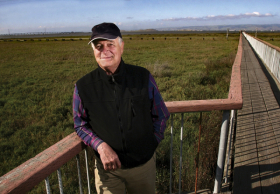 Thomas Salvador Jordan Jr.
Sept. 3, 1933-Jan. 6, 2023
Chico, California
Thomas Salvador Jordan Jr., a Bay Area environmentalist, Palo Alto attorney and civic advocate passed away on January 6, in Chico, CA, surrounded by all his children. He was 89 years old.
Born September 3, 1933 in Panama City, Florida, Tom was the only child to Beatrice Callahan Jordan and Thomas Salvador Jordan, Sr.
After graduating from Princeton University ( Class of '55 ) Tom served as an officer in the Korean war for two years before receiving his law degree from Harvard Law School ( Class of '60 ).
He took his first job with McCutchen Doyle Brown & Enersen LLP in San Francisco, and soon after arriving to S.F. met his wife Linda Frances Pfiffner.  They married November 25, 1961, and had four children: Amy, Annie, Tommy and Kate.
Tom moved to Palo Alto when he accepted an offer from Hopkins & Carley LLP.  During this time he was the third president of The Committee for Green Foothills, which preserved the watershed hills between Highway 280 and the coast between San Francisco and San Jose. Also notable was the victory he and his law partner Sherwood Sullivan attained on the famous Save the Bay case, establishing public's right to protect wetlands from private developers filling San Francisco Bay.
Tom was a prolific reader and loved gardening and music.  He served as president for both the San Jose Symphony and the Gamble Gardens in Palo Alto. Linda suffered an aneurysm in 1970, and Tom cared for her the rest of her life. Tom married Madge Whiting in 1983 and enjoyed a long marriage until Madge's passing in 2016.
The past seven years he lived in Chico near to all his Grandchildren, with extended summers in the East, between Princeton and the Berkshires. Tom is survived by his four children, and four grandchildren: Jordan, Tyler, Christiane and Callahan.  He also maintained a close relationship to his stepchildren : Mark, Bonney and Hilary, and step grandchildren.
His family held a private funeral at his favorite monestary/winery outside of Chico, and his ashes were interred at Alta Mesa Cemetery in Palo Alto.  A gathering to celebrate Tom's life will be held in Palo Alto later this spring or summer.