Lasting Memories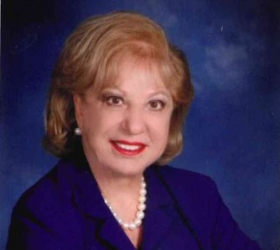 Marie La Barbera Zahn
Sept. 3, 1924-Jan. 9, 2023
Atherton, California
Submitted by Crippen & Flynn Woodside Chapel
A native San Franciscan and the only child of the late John and Caroline La Barbera, Marie attended Immaculate Conception Academy and San Francisco City College. Her last 50 years were spent in Atherton in a home she and her late husband built together.
Marie would credit her life-long involvement in philanthropy to her parents. She started volunteering at age of eight, collecting dimes for the Red Cross, and her volunteerism never ceased. In her adult life, she chaired many fund raisers for various organizations, among them the Sequoia Hospital Foundation, where she served on the Foundation Board of Directors beginning in 1992 as Secretary Treasurer, and later as President. In honor of her late husband, Dene W. Zahn Jr.'s affection for his Alma Mater, the University of Illinois, Marie funded the Dene W. and Marie C. Zahn Childrens' Learning Center at the Champaign-Urbana Campus Spurlock Museum, a Center encouraging the study of art and artifacts from all over the world, and is open to all children and adults who might not otherwise have this experience.
Marie's love of music began at an early age, leading her to participate in many school musical events and later as a church organist. She continued her love of music by sponsoring aspiring under-funded young artists desirous of careers in music and accomplished this in part through the Notable Music and Art Organization, established by Pasquale Esposito, internationally renowned Italian tenor.
Marie enjoyed decades of golf and social involvement with her beloved Dene, as members of Sharon Heights Golf & Country Club in Menlo Park and the Desert Island Golf & Country Club in Rancho Mirage, CA as well as membership at Incline Village, NE and Maui Country Club, Maui, HI
With Marie, family came first. She and Dene added an apartment to their home for her parents, and cared for them until their passings. Marie stayed active and involved with her home – fussing over the landscaping, growing tomatoes to enjoy and share and making sure the persimmons harvested were passed along to friends. An avid cook, especially of Italian specialties, Marie often called nearby friends to share fresh made minestrone or lentil soup. Special events always included "Mama Marie's Special Bolognese Sauce", a dish requiring equal amounts of chopping and patience.
Marie's devotion to God and Church also were paramount in her life and part of her philanthropy.
Marie leaves behind her two beloved children, Lynne Carol Meyer (Robert), Timothy Jon Cookston, and granddaughter, Lisa Meyer Finnigan (Shane) and three great-grand children, Sebastian, Sophia and Stella along with many long-time "extended family" members.
A memorial Mass in celebration of her life will be held at the Church of the Nativity. (Call the family for details). In lieu of flowers, the family invites donations in Marie's honor to the Sequoia Hospital Foundation (Sequoiahospitalfoundation.org), Church of the Nativity in Menlo Park (NativityMenlo.org), or Notable Music and Art Organization (Notable-music.org)