Lasting Memories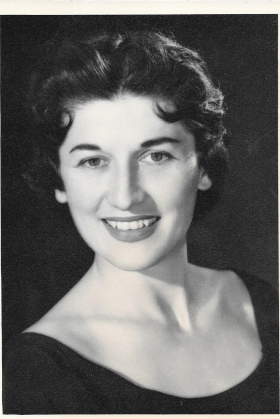 Maria Francesca Cuevas
Oct. 29, 1920-Feb. 7, 2023
Palo Alto, California
Maria (nee Codemo) Cuevas
Born Maria Francesca Codemo, 10/29/1920, Klamath Falls, OR. Died 2/7/2023 Palo Alto, CA. 102 yrs.
Marie revered her Northern Italian heritage, had a passion for opera, made the lightest most delicate gnocchi, enjoyed an occasional nip of grappa, knitted with rapid-speed clicking needles and sewed like a seamstress.
At 9 yrs old, she lost her gentle, sweet mother. Yet, despite this early loss, her life was enriched with culture, family and good friends.
Immediately following the death of her mother, Marie's father placed her and her siblings in the care of relatives in the Italian Veneto region near the Dolomites. There, she experienced poverty and witnessed the horrific aftermath of post WWI and the rise of fascism. This left her with a lifelong bitterness and abhorrence of war and its consequences.
Returning to America (Santa Barbara, CA) at 13 speaking only Italian, she relearned English, a challenge that inspired her fluency and literacy in both languages. Marie was an avid reader who preferred the hard classics. She was devoted to the arts and made sure her children were exposed to cultural events at an early age.
Caught up in the allure of a WWII romance, Marie married her first husband, Dante Casentini. This union produced 3 daughters, Donna, Sandy, & Patty. She later met the love of her life, Tony Cuevas, an impassioned opera enthusiast and singer, like herself.
Gifted with a lovely soprano voice, Marie sang in several choral performances. She met Tony on such an occasion, a blind date where he was kept in suspense not knowing who Marie was until after the concert. "I don't know which woman in the choir it is, but I'm attracted to that beautiful brunette with the Italian haircut and white chiffon dress" he quipped to his matchmaking friends. From this marriage came two more children, Barbara and Ricky.
Marie and Tony spent their lives together hosting many parties and events for family and friends, taking numerous trips to Italy and performing with the West Bay Opera under its founder, Henry Holt.
Marie is survived by five children, Donna Ames-Heldfond, Sandy Casentini, Patty Casentini, Barbara Cuevas & Ricky Cuevas, grandchildren Chris, David, Kristin, Jeffrey & Sophia, great grandchildren Charlot, Brody, James & Averly, several relatives & dear friends. She's predeceased by her beloved Tony, parents Agnese & Pietro Codemo, sister Elvira, brothers Mario & Gino. Memorial celebration pending. Donations to St Anthony Foundation-SF, West Bay Opera of Palo Alto or charity of your choice.