Lasting Memories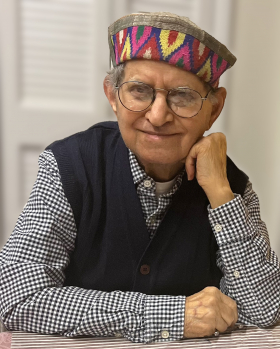 Mahender P Mohllajee
Jan. 30, 1937-March 6, 2023
Portola Valley, CA
Submitted by Anshu Mohllajee
Mahender Partap Mohllajee, a loving husband, father, grandfather, father-in-law, brother, uncle, and friend, passed away on March 6, 2023, at the age of 86. Born in Lahore, India (present day Pakistan) on January 30, 1937, Mahender was an unyielding spirit that inspired all who knew him.
Mahender's academic pursuits began at Panjab University Camp College in Delhi, where he received a Bachelor of Arts degree. He left Delhi and reached the United States by ship via France and Britain on January 21, 1960. He then went on to earn a BSME from Howard University where he spent time touring the Northeast to talk to other college students about non-violence, Gandhi, and Martin Luther King Jr. He was in attendance at the National Mall when Martin Luther King Jr. gave his powerful 'I Have a Dream' speech. He then moved to California and earned an MBA from Santa Clara University, paving the way for a successful career in real estate development.
In 1966, Mahender started working with Joe Whelan at Leland Investment Company, and ten years later, they began construction on the first homes built in Portola Valley Ranch. He poured his heart and soul into his work and community and quickly became well-known as a pioneer of the Portola Valley Ranch development.
In 1976, Mahender married Shyama, and in 1978, they welcomed their daughter, Anshu, into the world. Mahender also cared deeply about his extended family and friends, and he went above and beyond to support them as they immigrated from India.
In addition to his love for his family, Mahender had a keen interest in the news, politics, and reading. He was always deeply knowledgeable about current events and enjoyed discussing the latest developments with his friends and family. He was a lover of the performing arts, museums, National Parks, and traveling. He was a quiet, kind, and thoughtful man who listened attentively and especially enjoyed conversing with young adults.
He will be remembered as a devoted husband, father, grandfather, a pioneering entrepreneur, and a beloved member of his large family and local Portola Valley community. He will be deeply missed by his family, friends, and all those whose lives he touched. Om Shanti.