Lasting Memories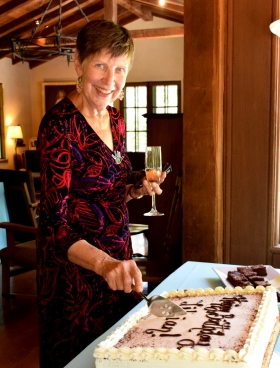 Lilian Marcus
1936-May 12, 2020
Palo Alto, California
Submitted by Barbara, Finn, and Marianna
Long-time Palo Alto resident, Lilian Marcus, died on May 12, 2020 in Silver Spring, Maryland from COVID-19. She was, as she would say, 84 years young.
Born and raised in Denmark, Lilian immigrated to the United States at the age of 20 with her husband. In 1960, after a few years in New Jersey, they moved to Palo Alto, where Lilian dedicated herself to family, home, and community. Her children remember her as very creative: sewing beautiful clothing and imaginative costumes, knitting sweaters and other clothes, and doing intricate embroideries. She also loved to be active, taking dance and exercise classes as well as spending time sharing her love of the outdoors and nature. She taught her children by example to accept diversity and embrace new experiences. Newly divorced in the mid-1970s, she took her children to live without electricity in a small fishing village in Mexico for several months.
As her eldest went off to college, Lilian began working at San Andreas Health Council, developing a lifelong interest in holistic health care. At the same time, she earned a Bachelor of Arts degree, before continuing on to graduate studies in professional psychology. She passed the arduous MFCC (Marriage Family and Child Counseling) license and began her life's work as a professional psychologist with the State of California. As a licensed psychologist in the State of California (MFCC, PhD) and a specialist in neurofeedback, she worked to support brain and mental health throughout her career. In her private therapy practice, she focused on biofeedback and later on the cutting edge field of neurofeedback.
Lilian retained a life-long interest in learning and expanding her skills, and in 2001, she completed the PhD in Psychology. She also retained her commitment to advancing mental health and helping others. She was passionate about mental and physical health, ever curious about new approaches and an early adopter of innovations. She maintained her private practice into her early 80s, while also supporting the National Alliance on Mental Illness as a presenter and advocate. Through personal experience, she had a deep understanding and empathy for how an individual's illness impacts family members, and the challenges family members face in advocating for and helping their loved one. Said one colleague, "I considered her the best therapist anywhere, and she generously helped so many people have better lives."
Lilian was no stranger to adversity. At a young age, she lost her mother to mental illness and spent two years as a hidden child during the German occupation of Denmark in World War II. Yet she maintained an optimistic outlook, living life joyfully and fully, especially in the final decades of her life. In addition to visits with family and helping others through her work, her joys included music and theater, Castle House Vintage Dance and other social dance groups, Second Sunday book club, her Mahjong group, sharing eggs from her small flock of chickens, walks with friends, and a variety of neighborhood activities, gardening, and hiking. Her kindness and zest for life brought out the goodness in people. She was loved by many.
Lilian is predeceased by her partner Peter, former husband John, daughter Lise, and three siblings.
She is survived by her children Barbara, Finn (Cathy), and Marianna (Thomas), six grandchildren, and Peter's children Maya (Chino) and Ian (Barbara) and their two children.
From Candia Smith
Nov. 12, 2021
Lillian's company was always delightful and often surprising. She graciously mentored me in my BCN certifications and shared her tricks, secrets and the beauty of her home. I have fond memories of her and Jay at my Picnic Table rehashing, the 'old days'. She is missed.
From Mary Ellen Culver
July 17, 2020
Lilian and I met in graduate school, and I considered her a good friend even after I moved out of the area. We studied for all sorts of exams and the boards together. One of my favorite memories of her was when we helped transfer horses from Lake Almanor to Redding, riding 103 miles, sometimes in the rain. We made it, but were exhausted, sore, but very proud of ourselves. She was a real trooper.
From Nicole Rathjen
June 27, 2020
I first met Lilian at a NAMI Providers class. Lilian spoke with me at the end of the class and I loved her immediately. From that moment on, I would look for her...feeling a little better just knowing she was there. I had the great joy of walking with her and spending the day with her during a NAMI Walk one year. Lilian had the most beautiful way about her. I think she could soothe the tears of angels. I am deeply grateful to have met such a gracious, gentle loving spirit..Farewell lovely lady, I miss you in our World...
From Sharon W. Erickson
June 20, 2020
Lilian was a member of our neighborhood garden group for many years where she shared her laugh, her earnest questions, her lovely yard, and her always entertaining chickens. She is deeply missed.
From Michael C. Lisman
June 12, 2020
I was glad I got the chance to meet Lilian. What an adventurous, rich and dedicated life she lived!