Lasting Memories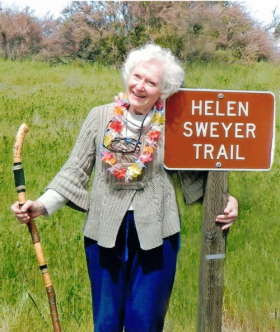 Helen Sweyer
Dec. 10, 1924-Feb. 8, 2023
Woodside, CA
HELEN SWEYER aka "Helen of Woodside"
It is with great sadness we announce the passing of our Mom, Helen Sweyer, also known as "Helen of Woodside" in her community of Woodside, CA on February 8, 2023.
Born and raised in San Francisco to Edwin and Helena Larson. She was the eldest of 4 siblings: Bob Larson, Florence Leale (both passed in 2020), and Claire Calvo, who currently resides in Pleasanton, CA. Mom was predeceased by our Dad, Robert (Bob) Sweyer, in 1991, and son Robert (Bob) Sweyer in 2020. Remaining in Woodside is her son Mark Sweyer, grandson Adam Sweyer, and daughter, Jan Sweyer, who recently relocated to Grass Valley. She also leaves a team of nieces and nephews and their extended families: Kathryn Rose, Frank Calvo, Christine Bouyea, David Calvo, Linda Brown, Valerie Andersen. Along with many dear friends.
Mom's younger years in San Francisco were filled with baseball (team captain), Editor of her Commerce High School Year Book. Worked at Hunters Point at the Naval Offices during WWII. Camping trips filled weekends along the coast and full summers in our beloved Yosemite. Her teen years were spent dancing to the big bands of Count Basie, Tommy Dorsey, Duke Ellington at the Avalon Ballroom in The City and their playground in Rio Nido, Russian River.
Mom & Dad met in San Francisco while Dad was serving in the Navy and stationed at Treasure Island in 1942. They were married in 1943. Their first was born in 1944, Bob, and by 1948, with the birth of their daughter, Jan, they moved their little family of 4, out of the City's fog & wind and into the sunshine of Menlo Park and their first home. Then came Mark in 1952 making us a family of 5, bringing us to Woodside in 1960. The best decision ever made for our family, where life really sprouted for us all.
We all fell in love with this unique and beautiful community. Mom, so much so, in the early 70's she made a life-changing commitment to protect and preserve these lands for future generations through the tireless and courageous efforts of Save Rural Woodside, which she formed in the early 1970's. With mentor, Ollie Mayer, by her side (who authored the California Coastal Plan for then Governor Jerry Brown) and the endless and tireless hours of volunteered legal time and efforts of the Romines and support of the Rosenthals and many others, Mom (Save Rural Woodside) was the first in the State of California to sue their Town mandating its General Plan & Elements be brought into compliance with the laws to protect and preserve the rare and endangered species and lands. She was an unstoppable force in a very divided Town. To this day, residents have expressed their gratitude for her work as their families continue to enjoy the fruits of these protected open space lands. 12 years ago, in appreciation for our Mom's efforts, the Town of Woodside declared an area known as Kite Hill the "Helen Sweyer Trail". Among many other lands she saved: "Village Hill", where the 2 bronze horses greet us as we enter town, from a proposed Chart House Restaurant, "The Horse Park", formerly Guernsey Field, from a proposed Safeway. Save Rural Woodside was such a powerful group that changed the planning course of our Town. All things dilute in time and will take another Helen Sweyer to lead a renewed movement to continue to protect and preserve significant lands for future generations. This part of Woodside's history and our Mom's story of Save Rural Woodside has been memorialized in the Woodside Museum.
To our friends, all called her "Mom". Our home was open to all. Fed everyone. Had fun with everyone. She was a beautiful artist, a prolific writer, had a huge green thumb and loved her roses. A gourmet cook putting on 5 star dinner parties and hosted every Holiday. She loved to hike, trekking up to Skyline often twice a week with her protector, Samson (german shepherd). Dad would pick us up and meet at the Belle Vista for dinner, enjoying a Manhattan or 2 while she waited. In later years, we brought her to Carpaccio's in Menlo Park where she held court at the bar, sharing stories and good times with all.
To sum all this up -- Mom lived in the "front row" of life, never afraid of expressing her joy (or not!) in any given situation. One of the most spirited women you'd want to meet.
Farewell sweet Mom. Enjoy your reunion with your family and friends. We thank you for all you gave of yourself. You made sure we had a wonderful life. We will love and miss you every day.
A Celebration of Life will be held on April 1st at the base of the Helen Sweyer Trail (located in the Woodside Glens, on Kite Hill) at 12noon.