Lasting Memories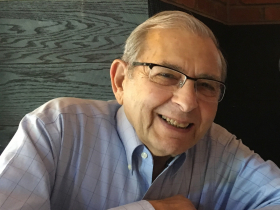 Ernest Aaron Vigdor
April 25, 1925-Feb. 27, 2023
Palo Alto, California
Ernest Aaron Vigdor, aged 97, of Palo Alto, CA died at the Stanford Medical Center on Monday, February 27th, 2023, of natural causes.
Ernie was born April 25, 1925 in the Bronx, New York City, to Joseph and Lena Vigdor. He attended Arts High School in Newark, New Jersey; served as staff sergeant and high-speed radio operator with the Army Air Corps in Guam during World War II; and graduated from the Pratt Institute in advertising arts. Ernie held several positions in advertising in Manhattan during the late 1940s and 1950s, before starting his own graphic design company in northern New Jersey, doing sales promotions for major corporations and public agencies for thirty years. In 1947, he married Barbara ("Bobbe") Linn, who managed the business's financial side. Their daughter, Siri, born in 1950, and son-in-law John Bilyk, joined the company later on.
During their time at Bardott (as the company was called), Ernie and Bobbe served as officers of several regional arts organizations, including the Fairleigh Dickinson University Concert Guild, the Classic Ballet Company of Northern New Jersey, the Bergen County Arts Council, Project Impact (promoting arts in education), and the Arts Center of Northern New Jersey. After Bobbe died in 1990, Ernie closed the business, and moved to Princeton, New Jersey, where he met and married Mary Taylor Huber in 1993. The couple moved to northern California for Mary's work in 1997, and traveled widely in the following years.
Ernie was known for his artistic vision, creativity, and quick wit. He took up magic and photography as hobbies while a boy, and found ways to practice both during his military service, donating his rare photos of daily life on Guam in the 1940s to the Micronesian Area Research Council during celebrations of the 50th Anniversary of the Liberation of Guam. After retirement, Ernie returned to an early interest in animation, writing and illustrating classic tales for grandparents to read on videotape to young grandchildren. Ernie was a great story-teller: fortunately for his family, these stories survive in the lively memoirs he wrote about his childhood in the Bronx, wartime experience, and years in business and the arts.
Ernie is survived by his wife, Mary, his grandchildren, Mathew (Linda), Peter (Julie), and Paige (Rob); a great-granddaughter, Isabella; and Mary's two sons, Birkett (Jennifer), and Ben (Sara) and grandchildren (Elliot, John, Tilden, Mason, and Morgan). He also leaves four nephews and their families, along with many dear friends and fond acquaintances. Ernie's amiability, humor, and down-to-earth style put people from all walks of life at ease. He was, in the words of one family member, "a class act who taught us all what that looks like."
There will be celebrations of Ernie's life on both coasts in the spring and early summer. Charitable donations may be made to the American Cancer Society or an arts organization of your choice.