Lasting Memories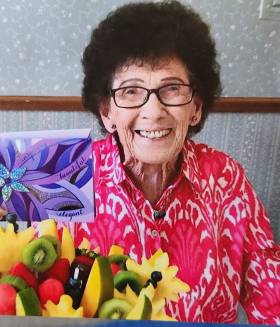 Edith Maxine Frost
Aug. 10, 1933-Feb. 14, 2023
Mountain View, California
Submitted by Diane Woodsmall
Edith Maxine Frost, 89, passed away on February 14, 2023 in Mountain View, CA where she lived most of her adult life. Edith was a beloved mother, grandmother, and great-grandmother. She was known for her warm smile, infectious laugh, and kind heart. She loved spending time with her family and friends, and was always there to offer a listening ear and a comforting word.
She was truly admired for her work ethic, her independence and her great passion for teaching. She was ahead of her time, doing so many things that no other moms in the neighborhood were doing - working and taking college courses, getting her pilot's license, and was dressed fashionably for it all!
She traveled, worked and volunteered well into her senior years. Throughout her life, Edith was a teacher, was passionate about flying her small airplane and traveling the world with her friends. She was an active member of Sunnyvale International Church and the mid-peninsula Widow & Widowers organization, serving as President for many years. Edith was known for her generosity, love of coffee and devotion to the San Francisco Giants.
We can all rest assured this was a life lived to its fullest! Edith is survived by her three daughters, four grandsons, and three great-grandchildren. She will be deeply missed by all who knew her.
Edith Frost was buried at Skylawn Memorial Park. May her memory be a blessing to all who knew her.