Lasting Memories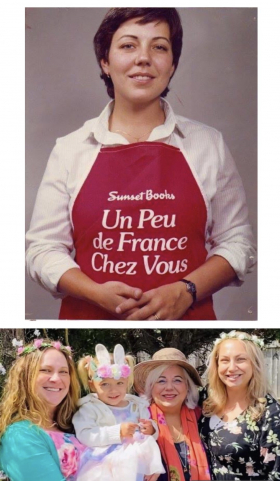 Denise Lynn Haley
May 2, 1953-Feb. 11, 2023
Pacifica, California
Submitted by Haley Randolph
Denise Lynn Bernadette Haley, beloved daughter, sister, former wife, mother, niece, aunt, cousin, friend, teacher and grandmother, passed away suddenly at 69 years old on February 11, 2023 with her two daughters Haley and Laura by her side singing her into heaven.
Denise was born on May 2, 1953 to Clifton and Janet Haley in Detroit, Michigan. Denise attended St. Brigid Catholic school in Detroit, Ecole Montjoie school where she learned and became fluent in French while living in Brussels, Belgium at age 10. After graduating from Thurston High School in Detroit in 1971, she received her Bachelors degree from Michigan State University in 1975, including a study abroad in France and then received her teaching credential from San Francisco State in 1991.
Denise married her high school sweetheart Bill Dapkus in 1978. They moved to California in 1976 and were partners for 30 years since high school. Together they had two daughters, Haley in 1982 and Laura in 1986.
Denise held many jobs in her life: waitress, entrepreneur in college selling advertising space on student desk blotters, campaigning for the National Women's Political Caucus in Washington DC in 1975, rental car manager at San Francisco Lincoln Mercury, Sunset Magazine culinary kitchen, her own catering business, then 30 years as a dedicated teacher for elementary, middle and high school students with a passion for poetry, France and the French language.
Raising their daughters in Redwood City, family life included traveling all over California and especially spending Christmases and summers in Michigan and Florida playing Euchre with the extended Haley and Dapkus families, years of soccer and all kinds of extracurricular activities for the girls, gourmet cooking and ballroom dancing.
Denise was the most loving and dedicated mother. After the birth of her 1st daughter, Denise started a women's support group to promote mental, physical and spiritual well-being. Many of these women have remained friends for nearly 40 years. Denise was a gifted story-teller who loved singing and music, especially Edith Piaf and Chris Isaak and attending live concerts. She loved the beach, the ocean and swimming.
Denise lived and loved with a passion. She loved to laugh and her zest for life was contagious. She was an adventurous traveler, a courageous risk taker, always learning, growing, seeking. With strength and determination, she carved out her own unique path in life. She was a spark, a flame, a bright light, a firework! Once you met Denise, you likely never forgot her. This incredibly charismatic woman lit up the room with her sparkling green eyes and her heart of pure gold.
Her biggest pride and joy moment was when her daughter Haley made her a grandmother when Stella was born in 2018. Stella spent every weekend with her beloved Grammie and they had the most special bond. Denise will be profoundly missed by everyone who loved her so dearly.
Denise was predeceased by her mother, Janet Haley. She is survived by her father, Clifton Haley, her sisters, Deborah Haley-Hanson and Daryl (Haley) Pender, her former spouse William Dapkus, her daughters, Haley (Dapkus) Randolph and Laura Dapkus-Humphries, and her granddaughter, Stella Randolph.
From Susan Sekerka
March 3, 2023
My uniqueness connected to Denise's from the day we met at MSU - our friendship deepened through 4 years there & then life changing travel in Europe together! We knew one another's people, histories, dreams … realized & not. Although our contact was less frequent after I left California, she always remains a part of me & I treasure my memories of our shared lives. ????
From Deborah Haley Hanson
Feb. 27, 2023

Growing up, my sister filled my life with humor, affection, and plenty of mischief. Oh how I miss her! With the heart of a lioness and the soul of a sage, Denise delighted us all with her Joie de Vivre, and I am rich with memories to cherish forever.????
From Rafael Cologne
Feb. 27, 2023

Denise was a fantastic human being. Intelligent, funny, kind. Every positive trait imaginable., Gorgeous and a huge Heart, accompanied by Character , that had you always smiling. So many wonderful memories… RIP Beloved Mademoiselle Denise… you will always be in my mind and Heart. ???? I will miss your cooking, as well!!!