Lasting Memories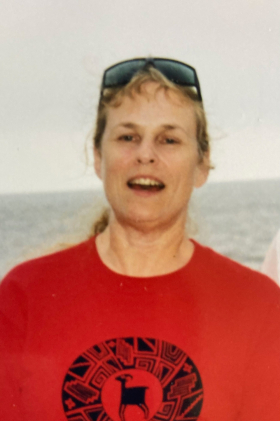 Cecily Merrill
1944-Feb. 21, 2023
Portola Valley, California
Cecily left us on February 21 after a 15-year struggle with Lewy Body Dementia. She was a fearless and highly motivated person all her life even as demonstrated through her long final struggle. Although it has been a long slow departure, she will continue to be missed. She left her brothers Frank, Paul, and Jim Merrill and her husband, Frank Friedlaender, behind.
Cecily was a California native and grew up in Northern California. Always interested in art, she enrolled and graduated from what was at that time the Oakland College of Arts and Crafts. Not only was she an artist in a traditional sense, but also a gifted musician and photographer, which she practiced throughout her life. However, to support herself she pursued a master's degree in education at San Jose State University. She taught high school in Oakland. Although, initially she commuted by motorcycle to school from Felton in the Santa Cruz Mountains that that morphed into a Lotus Elan as economics allowed. This early interest in classic cars further developed into a shared interest with her husband, with whom she collected a small collection of 60's era classic cars. She also loved to travel and usually traveled with her husband to his science meetings around the world. In later years she became interested in genealogy and history. Specifically, she researched the role of the Indian trading posts in the development and colonizing west of the Mississippi. This fascination grew stronger and after much research culminated into a book documenting her Irish immigrant family history and migration from Virginia coal miners to professions on the west coast. Cecily had many interests and activities, including being a diligent jazzercise devotee and collector of more than 200 specimens of cactus.
Cecily was both a very kind and compassionate person, always willing to help when needed, as well as a very private person who valued solitude and enjoyed spending time alone at the family ranch in New Mexico. She brought to her marriage with Frank another way of living than that to which he was accustomed and together their approaches to life were highly complementary and made a stronger whole than each of them brought individually.