Lasting Memories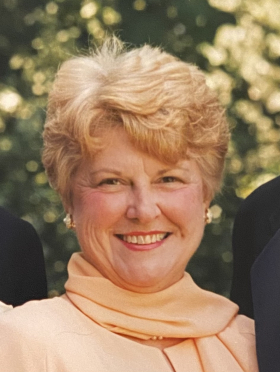 Barbara A Ringham
Sept. 18, 1932-March 6, 2023
Atherton, California
Barbara A. Ringham passed away peacefully at home after a long illness. She was the loving wife of Arthur J. (Jack) Ringham for just shy of 60 years.
Born Barbara Ann Bower in Milwaukee, Wisconsin on September 18, 1932, she arrived quickly and was delivered at home by her father before the doctor arrived. She was the youngest of five children with four older brothers.
In 1955 Barbara graduated cum laude from Downer College of Milwaukee, part of Lawrence University, with a Bachelor of Science degree. She went on to Massachusetts General Hospital where she completed a post-graduate course in Hospital Dietetics. She joined the dietetics department at Presbyterian-Saint Luke's Hospital in Chicago where she spent four years managing the main kitchen. While in Chicago she met Jack, her future husband. In 1962 Barbara returned to Milwaukee where she planned, equipped and managed a new dietary research unit in Milwaukee General Hospital.
Barbara and Jack married on July 20, 1963 and lived in La Grange, Illinois where their first child, Nancy, was born just before their first wedding anniversary. In late 1964 Jack transferred to San Francisco, with the family settling in San Carlos. Their first son, John, was born in September of 1965. In 1966 Barbara and Jack bought their home in Atherton, where they lived the rest of their lives together. Their family was complete with the birth of their second son, Jim in June of 1967.
Barbara was a loving mother completely dedicated to raising her children. They enjoyed many activities including music lessons, sports and scouting. Both John and Jim were Eagle scouts.
Barbara had many interests and talents. She learned to fly and got her pilot's license when she was eighteen. She made wedding cakes for each of her four brothers. She enjoyed sewing, knitting and quilting and made many beautiful pieces for her family.
She took on many projects in the house and yard including painting, hanging wallpaper, reupholstering and brick laying. (She said laying bricks was like making a layer cake.) Barbara loved gardening, especially the large rose garden she planted.
Barbara was an avid reader and member of a local book club for more than forty years. She enjoyed San Francisco Symphony concerts for many seasons.
She supported the Children's Hospital at Stanford as a member of the Woodside-Atherton Auxiliary for many years.
After raising her children, Barbara returned to her studies, received a Master's degree in Clinical Nutrition at San Jose State University in 1985 and resumed her career working at several local hospitals.
While the children were in school, the family enjoyed summer vacations traveling in the United States and Europe. After the children finished college Barbara and Jack travelled extensively around the world, visiting over 50 countries.
Barbara is survived by her husband, Jack, children Nancy Ashton, John Ringham, and Jim Ringham; grandchildren John, William and Edward Ashton, Charles Ringham, Madison and Ryan Ringham, all of whom she loved dearly. She was pre-deceased by her brothers James, Fred, Warren, and Keith Bower.