Lasting Memories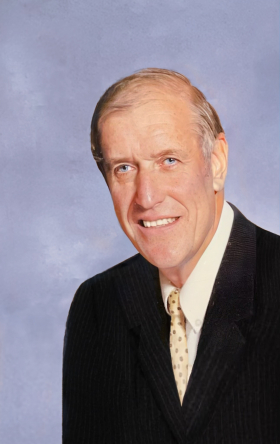 Angus William Gallagher
Sept. 3, 1928-March 14, 2023
Menlo Park, California
Angus William (Bill) Gallagher, a long-time resident of Menlo Park, passed away on March 14, 2023 at the age of 94 at home with family.
Bill and his fraternal twin brother Robert were born September 3, 1928 to Agnes Aabo and Peter Gallagher in Salt Lake City, Utah and were raised in Pasadena, California. After graduating from Woodrow Wilson High School in 1946, he enlisted in the Navy. After completing his military service, he served a three-year mission for the Church of Jesus Christ of Latter-Day Saints in the Spanish-speaking Southern States Mission.
He then attended college at Brigham Young University, where he pursued an accounting degree and met his wife, Dolly June Grotegut. In 1954, he graduated and married Dolly. Together, they moved to New York City where he worked as an accountant at Arthur Andersen and attended NYU Law School at night. He later received a Master of Laws degree from Yale University.
He began his career as an attorney for Standard Oil Company in New Jersey before returning to Southern California. The couple moved to Menlo Park with their five children in 1965. Bill worked as tax counsel at Chevron Chemical Corporation for 24 years until he retired. He also served as president of the Tax Executive Institute and practiced law for some years after retirement.
He loved his family's annual camping trips at Mammoth Lakes, California (over 60 years), fishing, gardening, coin collecting and serving in his church. He was a devoted husband and father for 68 years and has 19 grandchildren and 6 great-grandchildren.
He was predeceased by his daughter Marian Gallagher Wallace and twin brother Robert Francis Gallagher.
He will be missed by his "bride" Dolly June Gallagher, his children Peter Gallagher (Liana), Linda Kenedy (Brian), Joyce Gallagher Bradshaw (Bart), Mark Gallagher (Kathleen), son-in-law Dick Wallace.
He is also survived by his grandchildren Jake, Joe and Juligrace Wallace; Meagan Porter, Janna Mortensen, Christian and Peter Gallagher; Shannon and Colleen Kenedy, Erin Kenedy Gilbert, Mary and Shaun Kenedy; Kate, Patrick, Amy, and Molly Bradshaw; and Braden, Nicholas, and David Gallagher; and his great-grandchildren Alfie and Gwendolyn Porter; Levi, Amaya, and Charlie Gallagher; and Kairo Ruiz.