Lasting Memories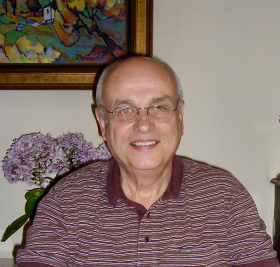 Andre Marion
Sept. 23, 1935-March 6, 2023
Palo Alto, California
Submitted by Linda Marion
A LIFETIME OF INNOVATION AND INTEGRITY
André F. Marion passed away peacefully at home on March 6, 2023, surrounded by his family.
André was born in 1935 in Nîmes, France. Educated in France, he received his Diplôme d'Ingénieur from ENSIAM (Ecole Nationale Supérieure d'Ingénieurs, Arts et Métiers, Cluny ) in both mechanical and electrical engineering. For the rest of his life, he enjoyed attending reunions in France with his ENSIAM colleagues and hosting them on visits to California.
After immigrating to Berkeley, CA in 1964, André held positions at Friden, Transaction Systems and Memorex. In 1972, he moved to Palo Alto, CA to join Hewlett-Packard, where he held various managerial positions in Research and Development until 1981. He held several patents related to digital printing, data processing and storage. André was deeply appreciative of the personal mentorship he received from William Hewlett and David Packard. In 1981, he joined Sam Eletr to start GeneCo – later renamed Applied Biosystems Inc. (ABI) – a pioneer in the field of gene sequencing. He served as COO, later president and CEO and finally chairman of the board until 1993, when the company was acquired by Perkin-Elmer Corporation.
In 1995, André retired from ABI. Upon his retirement, the following was entered into the Congressional Record as testimony from Rep. Tom Lantos: "During his 12 years as president, chief executive officer, and chairman of the board of Applied Biosystems, Inc., Mr. Marion ran his company with what he himself called 'Values for Success,' which included absolute attachment to integrity, consideration of the customer, and the highest achievable level of quality. He shared with his employees equally in the profits, stock options, and even the physical setting of the company's campus."
In retirement, André continued his association with emerging technologies that he deemed to "move science forward." He became a member of many boards of directors, among which were: Aclara Biosystems, Alpha Mos, Applied Imaging, Cygnus, EDC Biosystems, Genapsys, Guava, IntegnX, Integrated Biosystems, Labcyte, Molecular Devices, Parallel, Quantum Dot, Singulex, and SpinX.
André's interest in the world never flagged, and he and his wife Linda greatly enjoyed time with good friends and family exploring various countries and cultures from Madagascar to Mongolia, Antarctica to China, Papua New Guinea to India, and always his beloved France.
André is survived by his loving wife Linda, his children with Patricia Lay Marion: Joel (Tara), Lisa, and Anne Taylor (Bradley), and Linda's children: Caroline Moore (Armando Domingos) and Bill Moore (Amy). He has seven adored grandchildren: Alex and Luc Marion, Sophie and Teddy Taylor, Grace, Charlotte and Margaret Moore.
In France, he leaves his brother Jany Marion, nieces Aline Doussot (Pierre) and Nelly Marion, and nephew Michel Marion (Marie Hélène).