Lasting Memories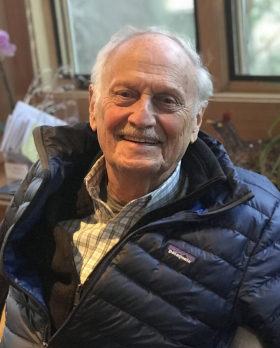 Alvin Irving Haimson
July 12, 1934-March 8, 2023
Woodside, California
Submitted by Alex Haimson
Alvin Irving Haimson passed away on March 8, 2023, at the age of 88, in Palo Alto, California. He was born on July 12, 1934, in Chicago, Illinois, before moving to Los Angeles with his family, where he spent most of his youth.
Al attended Occidental College and graduated Phi Beta Kappa with a Bachelor of Arts and a Master of Arts in Psychology. After graduation, he moved to Palo Alto, California to earn a Ph.D. in Psychology from Stanford University and ultimately worked in private practice as a psychologist for over 60 years.
Al dedicated his professional life to helping his clients. He embraced the human potential movement -- a belief that all people have extraordinary untapped potential. He helped pioneer the unique therapy methods of encounter groups, marathons, and psychodrama. He worked in the Stanford Counseling Testing Center, spent three years teaching in the Stanford Psychology Department, and counseled Vietnam veterans at the Menlo Park VA Hospital. Drawn to fellow iconoclasts, Al was depicted as "the young psychologist" in Ken Kesey's book One Flew Over the Cuckoo's Nest. As an entrepreneur, he developed real estate in the Bay Area and beyond, had a corporate consulting practice, and was a bourgeoning young concert promoter.
Al was a generous, supportive, and funny husband, dad, brother, and friend. He showed his love with a Sunday morning phone call, a lunch date at Ann's Coffee Shop, and a surprise appearance at an afternoon football practice or play rehearsal. He taught his family and friends that you can make small, daily, incremental changes to design the life you want to live. Did you know? 'You can do anything, it's Menlo Park!'. Al did. He would break into song mid-conversation with a chorus inspired by your last word. He spent his weekends playing on the Oasis softball team and perfecting his backhand for the annual Woodside tennis tournament. He rooted for the Stanford Cardinals and 49ers, and always against the Dodgers. Al was a regular at Alice's Restaurant, where his tea was served with three slices of lemon and one sweetener.
Al is survived by his wife of 44 years, Katherine Letteer Haimson, their son Alex, sons David (Kathy) and Robert (Michelle) from a previous marriage to Jean Dickson, sister Betty Walker, cousins Elaine Winer and Jackie Hasenstab, Robert's children Nathan, Christopher, and Dylan, Katherine's son Brendan Kenney (Kate), and Brendan's children Aidan, and Rhys.
Alvin Irving Haimson will be remembered for the profound impact on those whose lives he touched. He will be deeply missed, but his legacy will live on. As Paul Simon said, "I've reason to believe we both will be received in Graceland."